Indonesia's most popular tourist destination, Bali is a magical place that just about anyone would enjoy visiting. The only real question is when to go, so here is a list of some of the year's important festivals to help guide your decision. Keep in mind that these follow a lunar calendar, meaning they will fall on different dates each year according to the Western calendar.
Galungan
Celebrating the creation of the world, Galungan is Bali's most important annual event. It takes place over 10 days during the 11th week of the 210-day Balinese calendar – you can check with a travel agent or Indonesian Tourist Authority for exact dates. Locals dress up in splendid, colorful clothing, and typically spend time feasting with family and friends.
This marks the beginning of a series of important religious ceremonies, during which the spirits of deceased relatives return to visit their former homes. Current inhabitants are charged with being hospitable through prayers and special offerings that are prepared days in advance.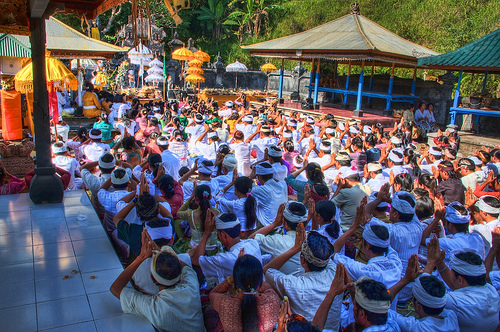 Credit: Mikaku
Source: http://www.flickr.com/photos/doliveck/6550067739/in/photostream/
Odalan
If you have decided to stay in one of the many fabulous villas in Bali, check to see if there are any important temples nearby. Then, try and find out when that temple was founded.
An Odalan is a festival that celebrates the anniversary of a temple's founding. These can last a day or longer, and feature elaborate decorations as well as offerings of food, flowers and prayer.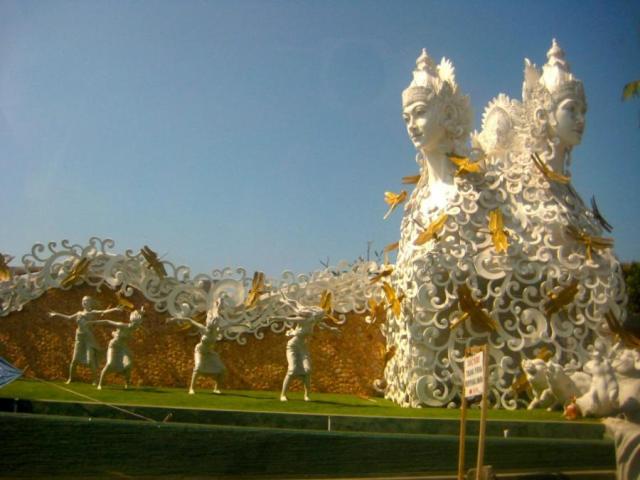 Credit: Philip Koltes
Melasti
This is another religious festival, during which locals dress up and make their way to either the sea or certain holy springs for a purification ritual. Flowers and fruit are offered up to the gods in sacrifice, as are pigs sacrificed by holy men. Sacred statues are also cleansed as part of the activity.
Loud tribal music and shouting are part of the experience, as this festival is followed by Nyepi. Nyepi signifies the beginning of a new lunar year, and this day is passed in total silence. No one may speak, work, travel, or partake in any indulgences whatsoever. Melasti's boisterous activity must therefore make up for Nyepi's stillness.
Credit: Bruno Kvot
Source: http://www.flickr.com/photos/brjkt/5573424321/in/photostream/
Bali Spirit Festival
Taking place over a week in March or April, this spiritual event celebrates cultural collaboration through wellness and the arts. Each year it attracts top yoga and dance instructors as well as healers, musicians, and thousands of guests.
The festival is spread across two venues in Ubud, the cultural and artistic capital of Bali. It features workshops and unique concerts as well as holistic healing sessions.
Bali Arts Festival
This is a spectacular, month-long festival that occurs each year during roughly June-July in Denpasar. There are daily performances and handmade craft exhibits as well as live music and dance, all celebrating authentic local culture.
Local music, theater, and arts collectives compete in surrounding villages for the chance to present at this important festival. This provides the chance to experience dance, music, and other art forms from remote areas that one might not otherwise encounter.